News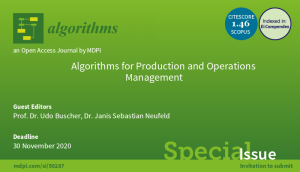 15.06.2020 -
As co-editor of the special issue "Algorithms for Production and Operations Management" of the journal Algorithms, Dr. Janis Sebastian Neufeld invites interested colleagues to submit their work. Further information regarding the special issue can be found here.

31.03.2020 -
From April 1 onwards, Dr. Janis Sebastian Neufeld will be the interim head of the Chair of Management Science. He has previously worked at the Chair of Industrial Management of the Technical University of Dresden, where his research has focused on machine scheduling as well as crew scheduling problems. For his start at the University of Magdeburg, the chair's team wishes him all the best and is looking forward to working with him.
Meanwhile, Prof. Dr. Jan Fabian Ehmke will start a new position at the University of Vienna as Professor for Business Analytics. His team at the Chair of Management Science thanks him sincerely for his valuable support thoughout the last two and a half years, for creating a constructive and extremely pleasant working environment, and wishes him all the best for his private and professional future in Vienna.
15.03.2020 -
Dear students,
Due to the current Corona pandemic, the start of the upcoming summer semester has been postponed to April 20. Since it is unclear how the situation will develop over the coming weeks, we are planning to teach our classes mainly digitally. We will keep you updated about organizational aspects of all of our courses on our E-Learning websites. We strongly encourage you to enroll yourselves for the courses you are planning to take on the E-Learning platform. Enrollmenet via LSF by April 6 is not not required.
Moreover, we would like to ask you to refrain from sending emails related to our courses before the eLearning websites are online. We are still in the process of reorganizing the courses, and may not be able to answer your questions at the moment.